Oscars, Marilyn Monroe & Hotdogs
With it being Oscar week, we are talking about movies, classic movie icons like Marilyn Monroe and the differences between old and new Hollywood. We'll even be learning how to prep some healthy oscar dishes and treats for our upcoming Oscar parties!
Host Nina Boski shares some facts about Oscar and explores what really happened the tragic night Marilyn Monroe died back in August of 1962.
In our Nina, Inspired segment, our question of the week is "What is your favorite classic Hollywood movie and why?"
In the Health, Inspired segment with co-host Wendy Newman we talk about healthy eating along with some Oscar treats. Celeb chef John Gabaldon teaches us how to make some healthy Marilyn Monroe-inspired treats with recipes posted below!
For the Life, Inspired segment, author Don O' Melveny talks about his new book coming out "No City for Dreaming" and talks about what was going on in Marilyn Monroe's life leading up to her death.
In Hollywood, Inspired, Nina talks with mega-movie executive and Academy member, Cheryl Boone Isaacs, and mega-producer and founder of TheOldHollywood.com, Stephen Simon, about Oscar night and their favorite movie picks. We'll also explore the differences between the Hollywood of today and of the past. You don't want to miss this show. Take a bite baby… or in this case, OSCAR!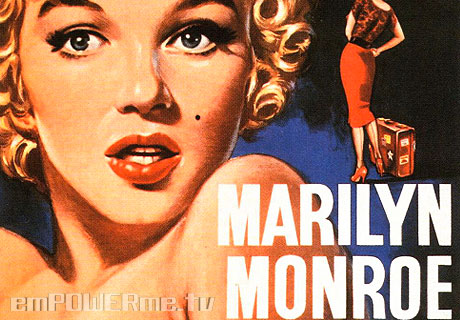 RECIPES FROM CELEB CHEF – JOHN GABALDON
BLINIS
1/2 cup uncooked oatmeal
1/2 cup egg whites
1 tablespoon honey
Directions
Place mix all ingredients in small bowl and blend
Let stand 5- 10 minutes to thicken.
Coat pan with canola oil and heat before adding batter.  With large spoon place in middle of pan four inch diameter circle and turn when pancakes bubble. Cook evenly on both sides and cook even golden brown.
OLIVE TAUPENADE (FAUX CAVIAR) and SOUR CREAM TOPPING
½ cup Black Olives minced
½ teaspoon chopped garlic
¼ cup chopped green onion
½ cup sour cream or use kefir plain if lactose intolerant
Add a dollop of low fat sour cream or kefir (if lactose intolerant with chopped green onion and then top a bit of minced black olives on top acting as the faux caviar
HOMEMADE TURKEY DOGS
1 pound lean turkey, ground
1/4 cup very finely minced onion
¼ cup chopped apple
1 small clove garlic, finely chopped
1 teaspoon finely ground coriander
1/4 teaspoon dried marjoram
1/2 teaspoon ground mustard seed
1 teaspoon sweet paprika
1 teaspoon black pepper
1 egg white
1 teaspoon salt, or to taste
1/4 cup yogurt
In a blender or food processor, make a purée of the onion, garlic, coriander, marjoram, mace, mustard seed, and paprika. Add the pepper, egg white, salt, and yogurt and mix thoroughly. Mix the ground turkey with the other blended ingredients
Push into long "hot dog" shapes and cook over stove
OSCAR RELISH
(Inspired by Oscar Schirky, maitre' d at Waldorf-Astoria w/cookbook until 1952)
6 oz chopped tomatoes
½ cup chopped onion
1 tsp ginger
2 cloves garlic
1 red peppers
1 green peppers
¼ cup horseradish
¼ cup honey
1 tablespoons salt, level
¾ cup vinegar
½ tablespoon white mustard seed (use mortar and pestle and mash into powder)
Chop vegetables. Sauté peppers onion/tomatoes and lightly salt until soft.  Then add other ingredients and simmer for about 30 minutes until liquid has evaporated. Chill in fridge.

TORTILLAS FOR HOT DOG WRAP
3 cups Organic, Unbleached Flour
1 teaspoon Salt
1 teaspoon turmeric
½ teaspoons Baking Powder
? cups Canola Oil
Preparation Instructions
Mix the flour, salt, turmeric and baking powder with a whisk. Add the canola oil and mix with your fingers until all the oil is incorporated and the mixture looks like fine crumbs. Add 1 cup of hot water and mix until a ball is formed. Cover with plastic wrap and let the dough rest for about 30 minutes. (I have also refrigerated it overnight).
Divide the dough into 12 balls and roll out one at a time on a floured surface. Brush off excess flour. Cook on a hot, ungreased griddle over medium-high heat. Turn the tortilla when brown blisters form on the first side. Stack the tortillas and serve warm.